Children's Dental Care
Dentistry is our profession but children are our focus because every child deserves a healthy smile. At Stoma, we strive to ensure that your child receives outstanding oral care in a fun, relaxed and professional environment. Pediatricians at Stoma are trained to meet your child's unique oral health care needs from 6 months to 18 years. We use the most advanced techniques on modern state-of-the-art equipment to stay abreast of the development of dentistry for children.
By starting your child's preventive oral health habits early you are giving your child a future free from oral disease. We focus on prevention, early detection and treatment and stay current with the latest advances in dentistry for children. Step in and experience the excellent and compassionate dental care provided in a clean, friendly and welcoming environment.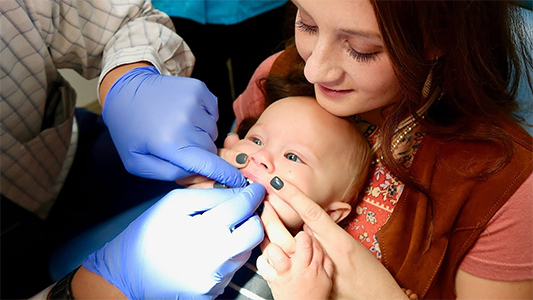 We believe it is necessary to take time with each child to understand their specific needs and concerns. Our staff will help your family learn preventative dental routines (brushing, flossing and cleaning) which can equip them with skills to prepare them for a lifetime of good oral hygiene to ensure your family's little smiles grow into big beautiful smiles.
Why We Care..
Stoma has Pediatric Dentists (differ from general dentist). A pediatric dentist has two to three years of specialty education after dental school and focuses his/her career on the treatment of children's dental needs. Their area of expertise lies in being the main provider for babies, toddlers, children and teens together with those with unique health requirements.
Pediatric Dentistry focuses around the distinct needs of your child's oral hygiene and well-being. Upon completion of a four-year dental education, Pediatric Dentists continue on to an extra two to three years of intense training necessary to finalize their degrees in pediatric dentistry. This focused curriculum builds a foundation of knowledge, practical skills and hands-on care.
Child's First Visit
By starting scheduled visits to the dentist at a young age, you set your child up for a lifetime of healthy dental behaviors. Your first visit to Stoma should leave a lasting positive impression for both you and your child. You should plan to schedule your first appointment upon the eruption of the first tooth or no later than your child's first birthday.
Your first visit will be a short visit. You can expect the following during your first visit:
Valuable knowledge about your child's oral health growth.

A take home plan including information about flossing, brushing, proper nutrition, and the importance of fluorides.

Information about Early Child Caries (may be attributed to misuse of sippy cups or improper nursing habits) and a caries risk evaluation for your child.

What you, as a parent can do to avoid harm to your child's teeth and mouth area.

What you need to know about preventing injuries to the mouth and teeth.

Details on pacifier, finger, and thumb routines and how these affect your child.
Recall
Professional examinations at regular four to six-month recall appointments are necessary. Developing problems can be found at an early stage and repaired easily, while waiting for a longer time may require redoing entire restorations. We will contact you when it is time for your recall appointment.