Gum Disease
Do your gums bleed when you brush or floss? Oral bleeding never signals anything good, but this situation in particular indicates that you may have gum disease. And gum disease can have a far- reaching impact on your overall dental health.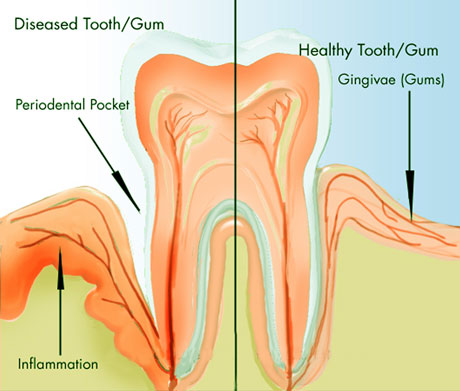 Your gums anchor your teeth into place. They also provide a protective barrier for your tooth roots and jaw bone. Without your gums, your oral condition would quickly deteriorate. If the gum tissue around the teeth starts to wear away or pulls back to the roots of the teeth, your teeth can become more sensitive and the receding gums can affect the quality of your smile.
So if your gums have problems, you may see an increase in other dental issues, such as cavities. Solve these issues by visiting Stoma and consulting dentists here.
Preventing Gum Disease

The best way to prevent gum disease from becoming a serious threat to health is to attend your regular dental checkups and periodontal examinations. Patients should also brush and floss on a daily basis and maintain a well-balanced diet. When it comes to periodontal disease, we offer state-of-the-art treatments in the comfortable environment you deserve. To schedule your dental checkup or gum disease treatment, please contact our clinic today.