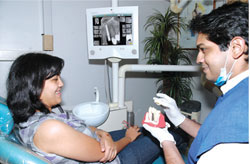 People by regular brushing, flossing, and checkups are able to maintain natural smiles for a lifetime, but sometimes a tooth (or a few teeth) are lost due to injury or disease. People who have lost teeth might feel too self-conscious to smile or talk. Additionally, biting irregularities caused by tooth loss can have a negative effect on eating habits, leading to secondary health problems like malnutrition. By replacing missing tooth roots, dental implants provide people with the strength and stability required to eat all the foods they love, without struggling to chew. Additionally, dental implants stimulate and maintain jaw bone, preventing bone loss and helping to maintain facial features. Dental implants can rejuvenate both your smile and your oral health.
Dental implant procedure is a form of prosthetic dentistry. Prosthodontists are well trained in implant dentistry. They make sure the success of dental implant procedure. It is very important to schedule a consultation with your Prosthodontist at Stoma Advanced Dental Care before the implant surgery to determine if implants are right for you.
Stoma Advanced Dental Care offers
CT Guided Implant Planning Video
What are dental implants?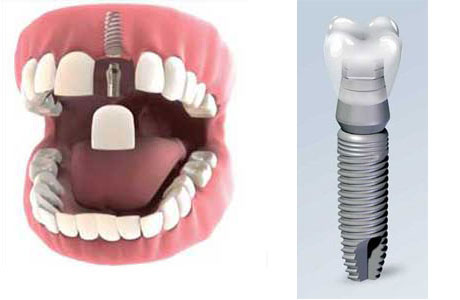 Dental implants are a permanent and appealing solution to replace missing or extracted teeth. These are metal device made of titanium surgically placed in the jawbone where teeth are missing. They replace the roots of missing teeth and support single crowns, large bridges and dentures. State-of-the-art technology makes it possible for these replacement teeth to look, feel and function like natural teeth.
An implant is a synthetic tooth root in the shape of a post that is surgically placed into the jawbone. The "root" is usually made of titanium the same material used in many replacement hips and knees, and a metal that is well-suited to pairing with human bone. A replacement tooth is then fixed to the post. These teeth are more stable and feel more like natural teeth.

The entire implant process is performed over 2-3 months. The first part of the process is to install the implant itself, where a screw is placed into the jaw bone. An incision is made in the gum so that the implant can be inserted. Multiple implants can be placed at once if necessary. After the implants are placed the gums are sutured. During this healing time a temporary crown is installed.
After the implant has healed it is time to place an abutment on the implant. The abutment serves as the base for your new tooth. Once this is placed an impression of the abutment is taken and is used to create your permanent restoration. Once the restoration is completed you have to return to the clinic to attach the restoration permanently. Your smile will look just like it used to, and after a short period of getting used to the implant it will feel just like one of your own teeth. You regain the ability to eat virtually anything and the confidence, knowing that teeth appear natural and facial contours are preserved.
The ideal candidate for implants is a non-smoker who has good oral health, including a sufficient amount of bone in the jaw, and healthy gums with no sign of gum disease.
Benefits
Stoma Advanced Dental Care recommends dental implants more than any other tooth replacement method so that our patients may enjoy the following benefits:
Ability to eat whatever you want without diet restrictions
Easy maintenance of implants
Permanent tooth replacement
A beautiful, restored smile
Protect bone health after tooth loss
Maintain the space of surrounding teeth.