Root Canal
Stoma Advanced Dental Care is equipped with a good team of experienced Endodontists who will study your condition before administering any treatment. We provide you the best in endodontic care with technologically advanced facilities and modern dental practices.
A root canal can save a tooth that would otherwise not survive due to severe damage, infection or decay. Although there is a popular misconception that root canals are painful, they are in fact a comfortable general dental procedure that is designed to bring patients out of pain. If you are experiencing discomfort from an infected tooth, trust Stoma Advanced Dental Care for top quality root canal therapy.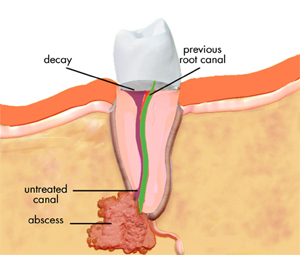 We maintain a warm, comfortable environment and are proud of the individual attention we offer to each patient. State-of-the-art techniques, such as the surgical operating microscope to enhance efficiency and treatment results, are used.
We hope that the information provided here answer many of your questions about endodontic treatment. If you would like additional information, please don't hesitate to contact us at Stoma Advanced Dental Care.
Stoma's Edge

Root Canal Treatment is needed when the blood or nerve supply of the tooth (known as the pulp) is infected through tooth decay or injury. You may not feel any pain in the early stages of the infection. In some cases your tooth could darken in color which may mean that the nerve of the tooth has died (or is dying).

At your initial appointment dentists will conduct a comprehensive examination to diagnose orofacial pain and pulpal injury and determine if the tooth needs endodontic therapy (root canal treatment). Most endodontic treatment can be done the same day as the consultation.

However, a complex treatment plan or medical history may require an evaluation and a second appointment to provide treatment on another day. Please assist us by providing the following information at the time of your consultation.

Your endodontic referral slip and any x-rays, if applicable. Please note that we may take our own x-rays to provide you with a comprehensive diagnosis.

A list of medications you are presently taking.

Important: All patients under the age of 18 years of age must be accompanied by a parent or guardian at the consultation visit.

Please alert the clinic if you have a medical condition that may be of concern prior to treatment (i.e. diabetes, high blood pressure, artificial heart valves and joints, rheumatic fever, etc.) or if you are on any medication (i.e. heart medications, aspirin, anticoagulant therapy, etc.)